Aretha Franklin plans to retire 'this year'
Aretha Franklin plans to retire after releasing a new album produced by Stevie Wonder this year.
Franklin made the announcement in an interview to a local TV station in Detroit.
The Queen of Soul, 74, has had a career spanning five decades.
"I must tell you, I am retiring this year," Franklin told WDIV Local 4.
"This will be my last year," Franklin said.
"I will be recording, but this will be my last year in concert. This is it."
She told the station she plans to spend more time with her grandchildren, though she would still do "some select things".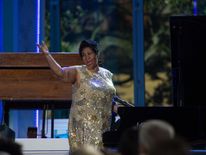 Franklin rose to fame in the 1960s after starting out as a gospel singer.
She has lent her distinct, powerful voice to hits including Respect and (You Make Me Feel Like) A Natural Woman as well as a cover of the Rolling Stones song Jumpin' Jack flash.
She has won 18 Grammy Awards and sold more than 75 million records worldwide. In 1987 she became the first woman to be inducted into the Rock and Roll Hall of Fame.
Her last album came out in 2014, and a new one is expected this year.
She told the Detroit station: "Several of the songs are going to be produced by Stevie, and of course there's only one Stevie, right?"
Looking back, Franklin told the radio that she was "pretty much satisfied" with her career.
But, she added, "I'm not going to go anywhere and just sit down and do nothing.
"That wouldn't be good either."
Source: Sky News – Entertainment
Please follow and like us: