Belfast bonfires: Police protection for removal teams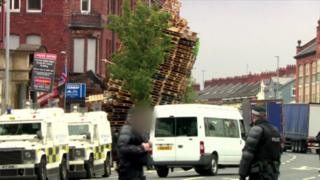 Dozens of police officers are protecting masked contractors who are removing bonfire material from a site in Belfast.
A number of roads have been sealed off near the Bloomfield Walkway. In the early hours of Wednesday morning a loyalist bonfire was set alight.
Meanwhile one of the main roads in east Belfast has been closed by police near a bonfire at Cluan Place.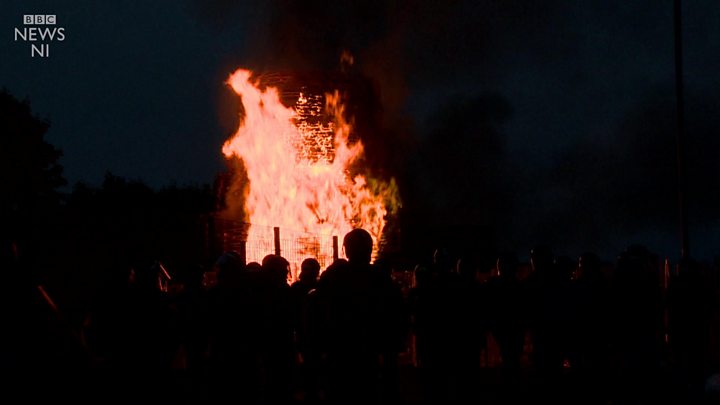 A fleet of police landrovers are on the Albertbridge Road near the bonfire.
The bonfire there, less than a mile from the Bloomfield Walkway bonfire, is being removed by contractors under police guard.
Traffic is being diverted away from the area.
BBC News NI understands contractors were called in by the Department of Infrastructure after Northern Ireland's Fire Service raised concerns about the Cluan Place bonfire.
Their assessment was that the buildings on either side would be destroyed if the fire was lit.
The police provided protection for team of contractors brought in from outside Northern Ireland.
Sources say loyalists tried to light the bonfire when police vehicles moved in but officers extinguished flames and provided a protective cordon until contractors arrived.
It is understood loyalist community representatives in the area were made aware of safety fears but did not offer any assurances that the bonfire would be reduced in size or dismantled.
In a tweet, the Chief Constable George Hamilton said there was an unfortunate display of reckless behaviour at the Bloomfield walkway bonfire site on Wednesday morning.
He added that the "so called loyalist expressing their culture and tradition" were not reflective of the vast majority in east Belfast.
On Tuesday a court ordered the height of the Bloomfield walkway bonfire to be reduced ahead of Eleventh Night celebrations.
Bonfires are traditionally lit in many loyalist areas of Northern Ireland on the Eleventh Night – the eve of the Twelfth of July.
The fires mark William of Orange's victory over King James II at the Battle of the Boyne in 1690 and supporters say they are an important part of loyalist culture.
A High Court judge directed the Department for Infrastructure to take immediate steps to reduce the size of the Bloomfield walkway bonfire to a maximum of 3m (10ft) as it was "out of control".
The ruling resulted from emergency proceedings brought by Belfast City Council amid claims the controversial 80-pallets-high construction posed a serious threat to surrounding homes.
The DUP MP for the area, Gavin Robinson, said his party supported the council's move for the court action.
The Bloomfield walkway bonfire was lit as police moved in to protect contractors who were due to remove materials from the site, according to the Police Service of Northern Ireland.
Vehicles were also set on fire in east Belfast.
"People on the site lit the bonfire with total disregard for the safety of the local community and threw missiles at police," said Assistant Chief Constable Alan Todd.
"It is disappointing that some people decided to resort to violence as attempts were made to reduce a significant threat to the life and property of local people, due to the size and location of this bonfire."
Source: BBC News – Northern Ireland
Please follow and like us: