Brexit: DUP to oppose Westminster 'guerilla warfare'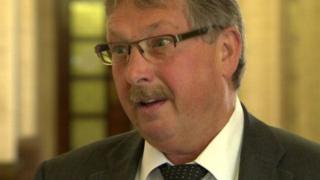 DUP MP Sammy Wilson says his party will oppose attempts of "parliamentary guerrilla warfare" to block the government's plans for Brexit.
MPs have been debating a bill giving Theresa May the power to begin negotiations over RU withdrawal.
The bill, if passed, will allow the prime minister to trigger Article 50 of the Lisbon Treaty by her own deadline of 31 March.
Sammy Wilson told the BBC it was "an historic day for the UK".
He said: "the promise which was made when the referendum was granted, giving the people of the UK the final say on EU membership, must be honoured ".
The East Antrim MP, whose party campaigned for Brexit, said they wanted "to see the Brexit process commence as soon as possible. We will also be opposing any attempts to undermine the bill by means of parliamentary guerrilla warfare when it comes to the committee stage next week".
The SDLP is against the triggering of Article 50 and last year campaigned for the UK to stay within the European Union.
The party's three MPs are supporting an SNP amendment which states that: "The UK government has failed to properly consult with the devolved administrations, and has so far failed to produce a White Paper on its plan for Brexit."
The SDLP MP for South Down, Margaret Ritchie, said:
"Brexit will be damaging to our economy and society. British and Irish Governments working with the NI Executive need to secure special status, which involves continued access and membership of the Single Market and Customs Union to protect and safeguard our economy and communities."
The Ulster Unionists, who campaigned to remain in the EU, are to back the move to trigger Article 50.
UUP South Antrim MP Danny Kinahan said,"We need the whole Leave process to start so we can lessen uncertainty and start tackling all the issues. We need clarity as there is so much to cover effecting everyday lives."
Sinn Féin believe Northern Ireland should have special status within the EU. Their leader north of the border, Michelle O'Neill, said "Brexit is not just an issue for the north. It will be a disaster for our economy north and south.".
The bill being debated at Westminster was published last week, after the Supreme Court decided MPs and peers must have a say before Article 50 could be triggered.
Source: BBC News – Northern Ireland
Please follow and like us: