Britons injured in Norway boat accident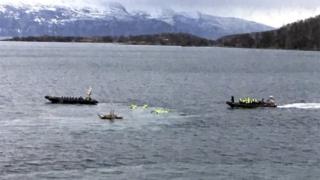 Several Britons have been taken to hospital following a boating accident off the coast of Norway.
Police said 11 people, 10 of whom are thought to be British tourists, were injured when a speedboat hit a water fountain near the town of Harstad.
A second boat following behind is thought to have been caught up in the incident. Norwegian Police said two people were seriously injured.
The Foreign Office said it was in contact with the Norwegian authorities.
"We are ready to support British people affected," a spokesman said.
According to police, a total of 24 people, including three crew, were on board the two boats.
Eleven people were on board the first rigid-inflatable boat when it collided with a harbour fountain at about 15:00 local time (14:00 GMT).
People were then thrown into the sea, but none of their injuries are thought to be life-threatening.
The British group were on a tour with a local travel agent, police said.
Harstad is in Northern Norway, situated on the country's largest coastal island, Hinnøya.
Source: BBC – UK News
Please follow and like us: