Child migrants: Ending of 'Dubs amendment' 'shameful'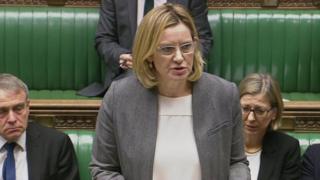 The government's decision to end a scheme allowing vulnerable refugee children into the UK is "shameful", Labour's Yvette Cooper has said.
On Wednesday the Home Office said it would stop arrivals under the scheme – devised by Labour's Lord Dubs – at the end of March.
Home Secretary Amber Rudd said this was because ministers feared it was encouraging people traffickers.
Ms Cooper said the government was "turning its back" on children.
Ministers announced on Wednesday that 350 children would be brought to the UK under the Dubs amendment – far fewer than the 3,000 originally expected.
The law, designed by peer and former refugee Lord Dubs, aimed to help some of the estimated 90,000 unaccompanied migrant children across Europe.
Ms Rudd defended the decision, which she said had been made after France raised concerns that the scheme could be encouraging more children to make the perilous journey to Europe.
Responding to an urgent question in the Commons from Ms Cooper, who chairs the Home Affairs Select Committee, Ms Rudd said: "I am clear that when working with my French counterparts they do not want us to indefinitely continue to accept children under the Dubs amendment because they specify, and I agree with them, that it acts as a draw.
"It acts as a pull. It encourages the people traffickers."
'Britain can do better'
Faced with a rebellion in the House of Lords, then prime minister David Cameron announced last year that he would accept the Dubs amendment and settle more child refugees.
On Wednesday, ministers announced that 200 children had been brought in under the scheme and that it would close after another 150 were settled in the UK.
Speaking in the Commons, Ms Cooper said thousands of child refugees were languishing in camps in Greece and Italy, desperate for help and at risk of abuse, exploitation and modern slavery.
"Britain can do better than this. Will she accept that and reinstate the Dubs programme now?"
But Ms Rudd said the UK was concentrating its efforts on providing aid and resettlement to vulnerable people in crisis-hit regions such as Syria.
She said: "I completely reject her attack. The UK has a strong reputation in Europe and internationally for looking after the most vulnerable. That will continue.
"We have a different approach to where those most vulnerable are, we believe that they are in the region.
"That's why we have made a pledge to accept 3,000 children from the region and we are committed to delivering on that."
Lord Dubs has urged the prime minister to "show leadership" by continuing the Dubs programme and not "shutting the door to some of the most vulnerable refugee children".
A legal challenge on how the government has handled the legal commitment will go ahead on Friday.
Source: BBC – UK News
Please follow and like us: