Cloughmills crash: Mother says death 'left hole in family'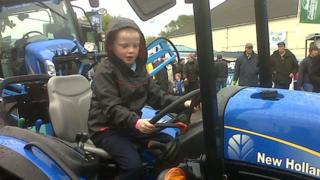 The mother of a boy killed walking to school in Cloughmills has disputed the version of the incident given by the driver of the car that struck him.
Sarah Hannah made her comments at the inquest into the death of her son, Adam Gilmour.
The eight year old was killed in November 2014 whilst walking along a road with his mother and five of her other children.
They were on their way to meet a school bus to take them to Clough.
A solicitor told the court on Wednesday that the driver of the vehicle, Stephen Austin, 22, said the family was spread out over the left side of the road as he approached them.
Ms Hannah told the court: "That's just a downright lie".
She explained that the family had to walk in single file on the left side of the road, facing away from oncoming traffic, because a ditch and hedge prevented them walking on the other side.
She said she has already asked the local education board for transport, warning them that "someone's going to end up getting skittled on that road".
Mr Austin was 18 years old at the time of Adam's death.
Adam's mother and his brother, Ryan, also needed hospital treatment after the incident.
Sarah Hannah was in a wheelchair for several months after the incident and has no recollection of that day whatsoever.
She told the court that the North Eastern Education and Library Board had eventually agreed to provide transport for her children as the walk to the bus stop every morning was so dangerous.
However, she further told the coroner that the bus driver on the route was not happy about taking the extra time for the journey to collect her children, and that the situation was being reviewed with the help of her local assembly member, Jim Allister.
Adam was a keen footballer and had been learning to play the drums.
He loved tractors, and had told his mother he wanted to be a farmer.
His mother told the court his death "left a hole in our family that cannot be filled".
The inquest continues.
Source: BBC News – Northern Ireland
Please follow and like us: