Coleraine in 'best financial position for years'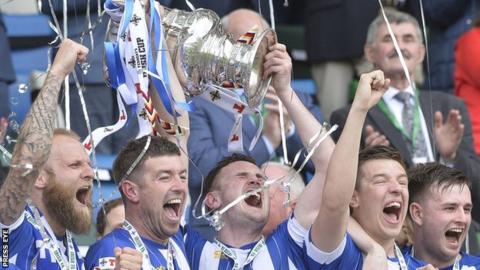 Coleraine have denied allegations that the club are involved in a financial dispute with their own youth academy.
The Sunday Life newspaper claims the Bannsiders could face a Uefa investigation following a disagreement "over where funding for youth development is supposed to go."
The club described the suggestions as "scurrilous and unfounded allegations".
The Irish Cup holders begin their league campaign at home to Warrenpoint on 4 August.
Coleraine enjoyed a remarkable 2017-18 season in which they were narrowly beaten to the Premiership title by Crusaders despite losing just once during the campaign.
The Sunday newspaper stated that the club's youth academy, The Harry Gregg Foundation, claimed money should have been placed in a bank account for youth development but had not been.
The report includes a statement from the chairman of the Friends of Coleraine, who own the club, in which concern about uncontrolled spending is expressed.
"We can assure our supporters and wider community friends that the club is in the best financial position it has been for a long number of years," read a statement from the Coleraine board.
"The investment both on and off the pitch has brought unprecedented success as everyone knows.
"The board are treating this as a very serious matter and are dealing with this accordingly."
Source: BBC SPORT NI