Dennis Rodman guilty of driving wrong way on highway
Dennis Rodman has been given three years' probation after he was found driving the wrong way on a California highway, causing a crash.
The former NBA star pleaded guilty on Monday to driving across a dividing section, giving false information to a police officer and driving without a valid licence, the Orange County district attorney's office said.
He was also sentenced to 30 hours of community service.
The incident occurred in the summer.
According to prosecutors, Rodman was at the wheel of a Range Rover travelling north in a southbound carpool lane on 20 July on a road in Santa Ana, forcing a sedan to swerve into a dividing wall to avoid a collision.
Rodman's lawyer, Paul S Meyer, said the highway entrance was poorly marked and community service was appropriate.
An initial hit-and-run charge against Rodman was dropped, Mr Meyer said.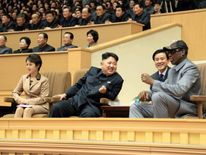 The ex-Chicago Bulls star, 55, is known for his bad boy antics.
In 2013 and 2014, he controversially travelled to North Korea on several occasions to visit leader Kim Jong-Un.
In one case, he sang happy birthday to the leader at the start of an exhibition basketball game, and also said he "loved" Mr Kim.
In 2014 Rodman checked into rehab for alcohol abuse.
Source: Sky News – Entertainment
Please follow and like us: