End is nigh for Black Sabbath with final gig
Black Sabbath – the band credited with creating heavy metal – are performing their final ever concert this weekend.
The End farewell tour, featuring Ozzy Osbourne on vocals, Tony Iommi on guitar and Geezer Butler on bass, concludes on Saturday night at Birmingham's Genting Arena.
It will bring the curtain down on the legendary band's playing career, spanning five decades.
Preparing for the finale, the self-proclaimed prince of darkness Ozzy Osbourne said: "Since I've got to this building, I've been happy, I've been tearful. Let's see what happens."
The band's line-up has changed many times since forming in 1968, including Osbourne's firing in 1979 before re-joining the band in 1997. Only guitarist Iommi has remained a constant.
Originally formed as a blues rock band called the Earth Blues Company, the group later re-named themselves Black Sabbath after a 1963 horror movie starring Boris Karloff.
In 2005 the band was inducted into the UK Music Hall of Fame and in 2013 MTV ranked them as the Greatest Metal Band of all time.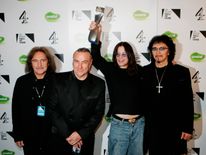 Calling it "the most incredible adventure", Osbourne, 68, said Sabbath had now "run its course".
He went on: "One of the proudest things I have in my heart is the fact that Black Sabbath wasn't a band that was created by some big mogul.
"It was four guys who said, 'Let's have a dream', and it came true beyond our wildest expectations."
Despite originally saying their 2013 album – 13 – would be their last, the band are now promising an eight track tour-only release, which will include previously unheard songs.
Osbourne – who is better known to a younger generation for his role in MTV reality show The Osbournes – has said that he will continue with his solo career.
The rock star gained notoriety in 1982 after biting the head off a bat live on stage during a gig in Iowa.
Source: Sky News – Entertainment
Please follow and like us: