Father 'absolutely' denies murder of baby Cárágh Walsh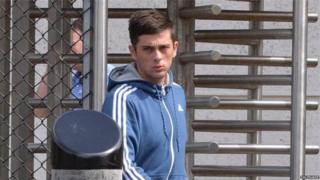 A west Belfast man has "absolutely" denied that he was responsible for the death of his daughter.
Three-month-old Cárágh Walsh died on 7 February 2014, two days after being rushed to hospital from her Glasvey Park home in Twinbrook.
Christopher O'Neill, from Whiterock Road, said he "loved her to bits".
Speaking at his Craigavon Crown Court trial in Armagh, Mr O'Neill said he would "never" have done anything to harm his daughter.
'Painful cry'
A defence lawyer asked about the events of "that terrible day" when baby Cárágh woke in her bouncer, with a "painful cry", and was rushed to hospital after her father had shaken her and given her mouth-to-mouth.
Mr O'Neill told the court that he "was scared… because I knew something was wrong".
He said he thought she was dying.
"I just wanted her not to die," he added. "I just wanted to help her".
Although the 26-year-old accepted that at one stage he lifted the baby up in front of him and "shook her", he did not know how many times he did so.
Under cross-examination, Mr O'Neill accepted that Cárágh was healthy and well, when left in his care, and that after she had unexpectedly taken ill, "in a very bad way".
He said he thought: "I will help her by picking her up and shake her with all the risks attached to that."
He also accepted that all his attempts to resuscitate his daughter before calling for help had made no difference, but maintained he was not thinking in a normal way, and was only trying to help his her.
'Frustrated and exasperated'
The prosecution lawyer put it to Mr O'Neill that, on the day in question, he had become "frustrated… exasperated at having to look after her".
"No. Never," the defendant replied.
The lawyer suggested that the injuries that resulted in Cárágh's death were caused "after you had lost it".
Mr O'Neill replied: "No, I would never hurt my daughter, that's completely wrong."
The case continues on Tuesday when the jury will hear evidence from medical experts.
Source: BBC News – Northern Ireland
Please follow and like us: