Giants secure home victory over Panthers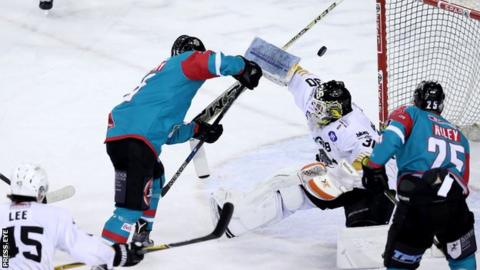 Belfast Giants defeated Nottingham Panthers in the first game of an Elite League double-header at the SSE Arena.
The hosts came from behind twice in the first period with goals from Sebastian Sylvestre and Spiro Goulakos.
Jonathan Ferland's strike in the middle session gave the Giants the lead and they moved clear in the final period.
Belfast added insurance markers from Sylvestre and Brendan Connolly to seal a victory which cuts the gap to leaders Cardiff Devils to five points.
Even-strength the Panthers dominated the opening stages of the game and they took the lead after only 64 seconds when Brett Perlini redirected the puck past Giants goalie Jackson Whistle.
However, their advantage was short lived when the Giants equalised on the power play at 2:33. Quick puck movement from Cole Jarrett and David Rutherford set up Sylvestre for the one-timer.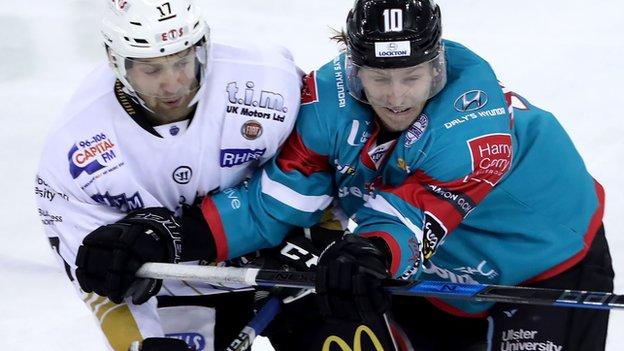 Without the man advantage the Giants were still struggling – after another excellent shift from the visitors, Tim Billingsley's little wrist shot from the right point through traffic found its way past Whistle.
Gradually, the home side managed to get their game going although it was a 4-on-4 goal that saw them head to the first intermission tied at 2-2.
Somehow defenceman Goulakos found himself all alone in front of the Panthers cage and after a couple of nifty stick moves he slotted the puck into the back of the net.
There were long passages of scrappy play in the second period but all that changed at 31:40 when Ferland sped down the left wing, into the circle, looked off the pass and wristed the puck short-side on Panthers netminder Patrick Galbraith and into the top corner.
Whistle was keeping the Panthers at bay with a string of outstanding saves which paved the way for the goal that made the game safe.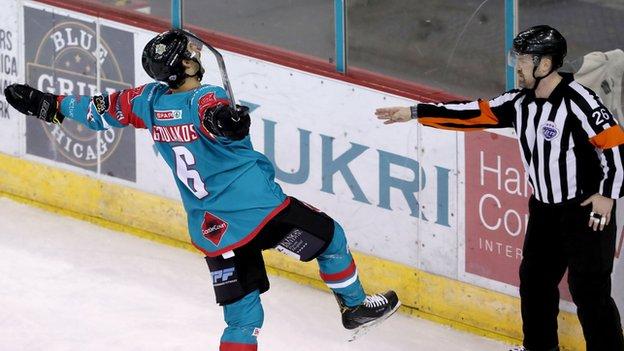 It owed more to luck than good judgement and came with just over five minutes remaining when Connolly's centring pass hit Sylvestre and went in – the Giants forward knew nothing about it.
Connolly added the empty netter with seven seconds left. The two sides will face-off again on Saturday night.
Source: BBC SPORT NI
Please follow and like us: