Hamlet not on Daniel Radcliffe's wish-list
Daniel Radcliffe says he wouldn's want to take on Shakespeare's Hamlet – ahead of the opening of his new play which features the role.
The actor is performing in Tom Stoppard's Rosencrantz and Guildenstern Are Dead, which opens in London next month and focuses on two minor characters from the Great Bard's tragedy.
He says Hamlet isn't a role that is on his wish-list.
"It's a struggle for me because I've seen a couple of people play Hamlet and they were both really, really good and it would freak me out because I'd be like: 'Oh I won't be as good as those guys,'" Radcliffe told Sky News.
"Even just watching Luke (Mullins) who's playing Hamlet in our play – it's a hell of a part, not that I'm shirking a challenge, but I think I'd have to psych myself up for that one."
Radcliffe, who plays Rosencrantz in the new production, is joined by Mr Turner actor Joshua McGuire as Guildenstern.
McGuire and Radcliffe worked together before, and the Harry Potter star said it's a "huge relief."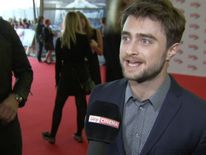 "It's that lovely thing – not having to worry about establishing a relationship and just being able to go in and go, 'Oh good, we can just start working on the play on day one.'"
Radcliffe, who has performed in a variety of plays since finishing the series of boy wizard films, explains what it was about this production that lured him back to the London stage.
"It's very, very funny. It does so many different things," he said.
"It sort of deals with questions of philosophy in a way that is incredibly fun and accessible and there's so much else going on at the same time that these sort-of grand existential questions wash over you while you watch this farce."
McGuire hopes they will bring a fresh take on the classic play, which was also made in to a film starring Tim Roth and Gary Oldman in 1990.
"I think by dint of it being a play where the two people playing the title roles, their personalities will just fill those characters in a way that other plays might not be able to," he said.
Rosencrantz and Guildenstern Are Dead previews at The Old Vic from 25 February and opens on 7 March.
Source: Sky News – Entertainment
Please follow and like us: