Hockey Women's World Cup: Ireland target a quarter-final spot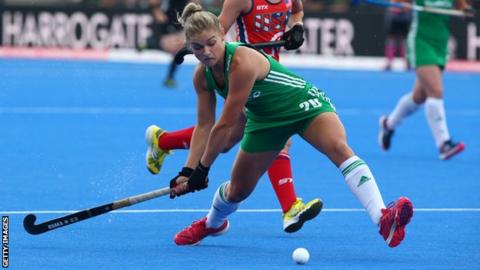 2018 Hockey Women's World Cup
Venue: Lee Valley Hockey and Tennis Centre, Queen Elizabeth Olympic Park, London Dates: 21 July-5 August
Coverage: Score updates and match report on BBC Sport website
Ireland's Lizzie Colvin is confident the team can build on their opening win over the United States as they target a place in the World Cup quarter-finals.
England's draw against USA means a win against India [14:00 BST] would secure the top spot in Pool B.
Ireland beat India in World League Three last year and have not lost to the world number 10 side since 2014.
"We know that the job's not done yet and this is certainly a marathon not a sprint," said Colvin.
"It's great that we know we have the capacity to beat India, we beat them last year in Johannesburg, and we know that they've played very well but we know we need to bring our best game and that's what we'll try and do, bring a really good performance and hopefully the result takes care of itself."
A draw against India would also be enough for Ireland to at least guarantee that they make the quarter-final play-offs ahead of their final pool game against England on Sunday.
"I think everyone is pretty level-headed, we really enjoyed the win [against USA] but we know that it's done now and we can take the experience and we can take the really positive things that we took out of that game and bring it forward but we're just really excited to get back out there again and play in front of a really good crowd," added Belfast Harlequins midfielder Colvin.
Ireland began the tournament as the lowest-ranked team in Pool B (16th) but Graham Shaw's side will be hoping that their defeat of the seventh-ranked USA can provide a platform for them to reach the knockout stages at their first World Cup since 2002.
"We probably won't really think about that too much. I think we'll think about the game itself and the processes that we'll look to do going into that," said Ireland captain Megan Frazer.
"Again, I think it's all about our preparation – we prepared so well for the USA game and that's what we'll do again and hopefully the same result will come for us but by no means will we sit back and rely on a past result to get us through the next game."
Source: BBC SPORT NI