Hockney show is Tate's fastest-selling exhibition
Tate Britain is hosting the biggest ever retrospective of the work of David Hockney, illustrating the 60-year career of one of the country's most influential artists.
The show is the fastest-selling in the London museum's history.
It features more than 250 pieces of artwork to celebrate Hockney's achievement in sketching, painting, printmaking, photography and digital iPad experiments.
The exhibition includes new paintings of his home and garden in Los Angeles that are shown to the public for the first time, as well as pieces from Hockney's own collection.
The oldest piece is a teenage self-portrait from 1954; the most recent paintings of his LA home were completed in 2016.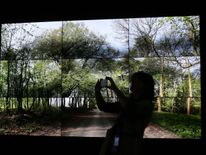 Andrew Wilson, the curator of the exhibition, called Hockney "a force of nature" and "an artist he arouses great feelings".
He said the experience of going through such an extensive body of work "is going to change how people understand David Hockney's work".
Hockney, a major contributor to the Pop Art movement, left grey Britain for southern California in the 1960s, striving to capture the intense LA light in his works.
He has experimented with combining scores of photos into large, multi-perspective collages of landscapes including the Grand Canyon, and in the early 2000s he looked afresh at the fields and forests of Yorkshire in a series of exuberant landscape paintings.
Recently, the iPad has become a favourite tool of an artist who continues to experiment as he approaches his 80th birthday.
Last week The Sun asked him to redesign its red masthead for a day, and Hockney created a cartoon-style logo of sunrays and shadow, using a drawing app on his iPad.
The show, which runs to May 29, will then move on to the Pompidou Centre in Paris and New York's Metropolitan Museum of Art.
Source: Sky News – Entertainment
Please follow and like us: