James Fenton inquest: Police actions 'inexplicable'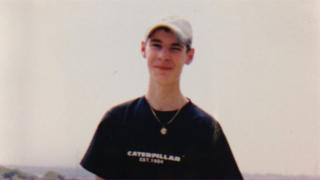 A coroner has criticised police for a failed search to find a man who died in the grounds of a hospital after leaving a mental health ward.
He said officers' actions in the case of James Fenton were "inexplicable, inexcusable and deeply unsatisfactory".
The coroner ruled the cause of the 22-year's death was unascertainable due to the advanced decomposition of his body.
He agreed to be admitted to the Ulster Hospital in July 2010 but later climbed over the wall of a smoking area.
Officers disciplined
A police search failed to find him and his body was discovered 10 weeks later in the grounds of the hospital in Dundonald, on the outskirts of east Belfast.
In 2013 the Police Ombudsman issued a critical report into the search for Mr Fenton and 12 PSNI officers were disciplined.
The inquest into his death began on Monday and heard evidence from police, medical experts, hospital staff and the Fenton family.
The coroner said that if a police search dog had been used the young man might have been found in time.
Source: BBC News – Northern Ireland
Please follow and like us: