Kilkenny: Backlash over Facebook dress-code post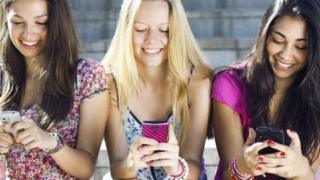 A company's Facebook post describing teenage girls clothing at its past events as "deplorable" has provoked strong reaction on social media.
Fusion Ball organises teenage events across Ireland and posted the advice on its Kilkenny page.
The post said: "Due to the deplorable dresses at the last ball it is necesary (sic) to fully enforce a knee length dress with NO PLUNGING NECKLINE dresscode for the mid-term ball."
"Keep it Neat and Discreet ladies".
But a number of responses accused the company of trying to dictate what young women wear.
The post illustrated pictures of models dressed in various styles of clothing with 'NO' stamped across them.
One comment said: "I don't have girls but I have to say I was very uncomfortable with your post. Are we raising independent women or going back to the 80s where young girls had babies in grottos and died?
"I felt the phrase 'keep it neat and discreet ladies' was a poor choice of words."
'Totally agree'
However many of the comments were in support of the advice.
One Facebook user wrote: "I totally agree with this stance of the organisers. All those critical of the organisers, please volunteer at the event and watch for yourself what teenagers get up to today and give your feedback on the dress code then."
'Safe environment'
The company responded on the Facebook page: "We organise these events for 15-year-old children to attend in a safe, supervised and fun environment.
"We put up a reminder of this before every ball and we also have it on the back of all tickets.
"The Dress-code is as follows: Boys Wear: Shirt and Tie, Slacks and Shoes. Girls Wear: A Dress and Shoes
"Shoes can be sandals, heels or flat pumps. Dress can be knee length or just above the knee".
Source: BBC News – Northern Ireland
Please follow and like us: