Les Kiss insists Ulster are making progress despite criticism of recent displays
Ulster's director of rugby Les Kiss has strongly defended his squad after criticism of the team's performances over the past month.
Kiss' side struggled to earn two wins and a draw over Pro14 Conference B bottom trio Southern Kings, Benetton and the Dragons in recent weeks.
Stephen Ferris last week described Ulster's displays as "not good enough" but Kiss responded on Wednesday.
"There's got to be a certain level of happiness about where we are," he said.
"We have only lost two games (out of 10) in the Pro14.
"The last three weeks when we have had the international window, we have had a pretty heavy injury rate.
"We haven't had the likes of our frontline tight-head props and Andy Warwick has been covering it.
"We have blooded three of four new guys, Aaron Hall, Greg Jones and Matthew Dalton to name a but a few, into the system.
"To battle through that and still get 12 points from a possible 15 speaks volumes for the character and resilience in the group."
Ulster face Harlequins in Euro opener
Speaking four days before Sunday's European Champions Cup opener away to Harlequins, Kiss insisted that recent displays have demonstrated that "good qualities" are emerging within his young contingent.
"We would like to be happier. We would like to think that we wouldn't have dropped one of those games.
"As coaches, we are really happy about how we are challenging them in a really positive way.
"We have pushed them hard over the first 12, 13 weeks of the season.
"We're not going to let up. We're also going to build the right things in our game and I do think there is more to come from us."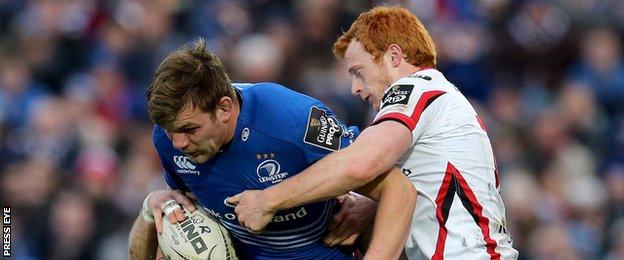 Murphy will add 'back-row flexibility'
Speaking after confirmation that Jordi Murphy will arrive at Kingspan Stadium on a two-year deal this summer, Kiss said that the addition of the Ireland forward would give the team "great flexibility" in the back row.
"He's hard on the ball as a seven but he can play six or eight as well.
"He's a great athlete on the pitch and a good line-out operator.
"But what Jordi will deliver off the pitch will be just as important.
"When he's not here, he will look after himself. He's a good team man and what he will do for the culture and the environment will be just as important as what he does on the pitch."
Kiss wants Best to extend Ulster deal
Kiss also said that he wants Ireland captain Rory Best to extend his Ulster deal beyond this season.
The 35-year-old's Ulster contract runs out at the end of this season but Kiss is very keen that the hooker, who also captains his team, will sign a new deal.
"Rory wants to play in the Ulster jersey. That's first and foremost the prime driver from him. That makes it easy from a coaching perspective.
"Absolutely. If that can be the case (Best agrees a new deal), it will be the right decision. Hopefully, it will work out that way."
Source: BBC SPORT NI
Please follow and like us: