Light trick 'caused Irish lottery number change'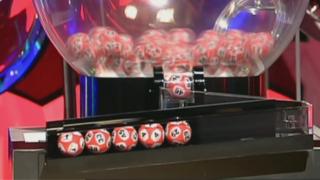 One of the winning balls in Saturday's Irish National Lottery appeared to change numbers due to a trick of the light, lottery chiefs have said.
Ball 38 was the second number to drop during the draw.
However, after it was nudged by the next ball it seemed to be labelled number 33 as well as 38.
That led some social media users to suspect foul play, but the Irish National Lottery has stressed that nothing sinister was afoot.
"A brief reflection of light during filming caused an illusion and some players to think there were two numbers on ball 38," it said in a statement.
"This was not the case."
"The weight and size of all Lotto balls, and the numbers, are strictly checked in advance of each draw.
"This process, as well as the draw itself, is independently observed by our auditors KPMG."
The ball was drawn on the Irish National Lottery's Lotto Plus 1 game which has a jackpot of 500,000 Euros (£449,000).
It is not known how many winners there were, but it is thought unlikely any of them were amongst those who complained.
Source: BBC News – Northern Ireland
Please follow and like us: