Liverpool FC ban for Sun journalists over Hillsborough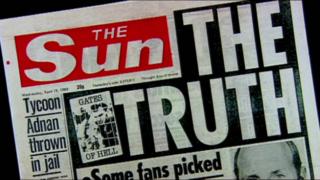 Liverpool FC has banned The Sun journalists from its grounds over the newspaper's coverage of the Hillsborough disaster.
The newspaper has been widely boycotted in the city following a campaign by the Total Eclipse of The S*n group.
Its journalists will no longer be allowed on site to cover matches and press conferences.
The Sun said the move was "bad for fans and bad for football". The club declined to comment.
The Total Eclipse of The S*n group tweeted: "Further to conversations with LFC directors we are happy to inform you that Sun journalists [will] no longer enjoy access to club premises."
A spokesman for the paper said it "deeply regrets" its reporting and understands the damage caused was still felt by many in the city.
"The Sun and Liverpool FC have had a solid working relationship for the 28 years since the Hillsborough tragedy.
"Whilst we can't undo the damage done, we would like to further a dialogue with the city and to show that the paper has respect for the people of Liverpool.
"Banning journalists from a club is bad for fans and bad for football."
Source: BBC – UK News
Please follow and like us: