McCabe controversy: Public inquiry into claims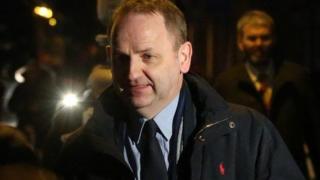 There will be a public inquiry into whether a police whistle-blower was falsely smeared by senior officers in the force as a child sex abuser, the Irish prime minister has said.
Enda Kenny said the decision, in principle, was reached at a cabinet meeting.
He said the terms of reference had yet to be finalised.
Sgt Maurice McCabe said on Monday he strongly opposed an inquiry in private.
Mr Kenny said Gerry Adams was an "absolute hypocrite" after the Sinn Féin leader criticised the Irish government over its handling of the false smear of child sex abuse against Sgt McCabe.
"You're an absolute hypocrite, absolute hypocrite," Mr Kenny replied mentioning how republicans treated Máiría Cahill and what happened to "young men abused in safe houses by members of your organisation".
Mr Adams replied that he was not going to rise to Mr Kenny's "bluster."
Source: BBC News – Northern Ireland
Please follow and like us: