Mia Ayliffe-Chung: Backpacker murder not "terror attack"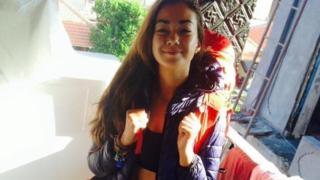 The mother of a backpacker who was stabbed to death in Australia has criticised the White House for labelling her death a "terror attack".
Mia Ayliffe-Chung, 20, from Derbyshire, was killed at a workers' hostel in Queensland in August.
US President Donald Trump has accused the media of under-reporting terrorist attacks "executed or inspired by" the Islamic State group.
Rosie Ayliffe said Mia's death must not be used to persecute innocent people.
'No terror link'
She said in an open letter to Mr Trump: "Treating immigrants as disposable commodities and disregarding their safety causes deaths throughout our so-called civilised world."
French national Smail Ayad, 29, has been charged with the murder of Ms Ayliffe-Chung and that of Thomas Jackson, 30, from Cheshire, who was also stabbed and later died in hospital.
Mrs Ayliffe added: "The possibility of Mia and Tom's deaths being consequent to an Islamic terror attack was discounted in the early stages of the police investigation."
Source: BBC – UK News
Please follow and like us: