Murdered soldier's family 'sickened' by 'freedom fighters' tweet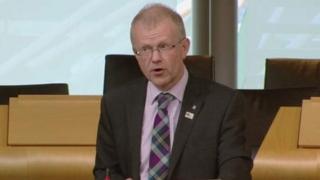 A relative of one of three Scottish soldiers murdered by the IRA says he was "sickened" after a politician suggested the gunmen could be considered "freedom fighters".
John Mason, from the SNP, made the remarks on Twitter when asked to support a justice campaign.
He later said his comments "were general" and not specific to this case.
Dougald McCaughey and brothers John and Joseph McCaig were shot dead while off-duty in Belfast in March 1971.
---
---
David McCaughey, Mr McCaughey's cousin, told BBC's Good Morning Ulster that his family have asked Scottish First Minister Nicola Sturgeon, the SNP's leader, for a public apology and to take disciplinary action against Mr Mason.
After being asked to back the campaign, Mr Mason tweeted: "Happy to support all campaigns to bring about justice. But not taking sides between Irish and British."
After being challenged about "not taking sides between Scottish soldiers and Irish murderers", he replied: "You say Irish murderers. Others say Irish freedom fighters. I support Scottish soldiers if they do good but not if they do bad."
He later tweeted: "I have been asked to clarify my comments were general and not about any specific case. I certainly did not intend to cause any offence".
Mr Mason has declined to comment further on the remarks.
---
---
Mr McCaughey said the remarks were "deplorable".
"When I heard that I felt sick to my stomach," he said.
"To turn around and say an organisation like the Provisional IRA are freedom fighters – that means you'd need to put ISIS, the Basque separatists and any other terrorist organisation down this freedom fighter route."
He added: "It was actually quite sickening, it was an insult to my family and also to other people who have lost their lives at the hands of the IRA.
"The man should be ashamed to be Scottish."
Mr McCaughey also said his family were planning to take a civil case over the murder of the three soldiers.
He said they had contacted the legal firm which won a civil case that found two men liable for the Omagh bombing.
Dougald McCaughey was 23 when he was shot dead in the Ligoniel area of Belfast along with teenage brothers John and Joseph McCaig.
A memorial was placed on the site of their deaths in 2009. The memorial has been repeatedly targeted by vandals.
Source: BBC News – Northern Ireland
Please follow and like us: