Newspaper review: No love lost on the election trail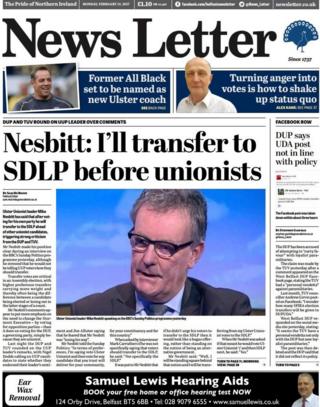 With Valentine's Day approaching, the Ulster Unionist Party leader's proposal of a partnership with the SDLP is attracting attention in the papers.
Mike Nesbitt declared his intentions on the BBC Sunday Politics show, saying he would give the SDLP his second preference in next month's vote.
The remark sparked scorn from other unionists, and was even spurned by one high-profile MLA from his own party.
The Belfast Telegraph claims Mr Nesbitt is at the "centre of an election storm".
The paper said the "unexpected move stunned many of his supporters and prompted senior UUP politician Danny Kennedy to advise his supporters to give their second preference to the DUP".
Mr Kennedy, a former UUP deputy leader, tweeted on Sunday that he believed it was important to protect "pro-union seats".
'Risking jail'
The News Letter reported that other unionist parties have "rounded on the UUP leader's remarks" with the DUP's Nigel Dodds claiming many UUP members would be "dismayed" by their leader voting for a nationalist party.
Mr Nesbitt's prospective other half, SDLP leader Colum Eastwood, appeared non-committal when asked on the Sunday Politics show if he would return the love and reciprocate the UUP gesture.
The Irish News quotes the nationalist leader as saying he would vote for SDLP candidate first, but after that he is keeping his options open.
"I haven't decided what I will do yet, but I will go down the ticket." Owch!
The Daily Mirror highlights a very different love story – that of a County Tyrone mother "risking jail" for her 11-year-old son who has a severe form of epilepsy.
It reports that Charlotte Caldwell's son, Billy, has been receiving "life-saving" cannabis oil treatment in the US, which is illegal in the UK and Ireland.
The family say they want to return home, and intend to fly into Dublin airport on Monday night.
"The risks are huge. I could be arrested, I could even face losing custody of my son but I feel the risk is worth it," Charlotte Caldwell told the paper.
Alone on Valentine's
There is not much love at Alliance HQ, after a member of the party's ruling executive resigned over his tweet that said unionists had been bred to "hate Catholics more than corruption".
The News Letter and Belfast Telegraph both carry David Honeyford's apology for the offending tweet, which was sent during a debate on the Renewable Heat Incentive (RHI) scandal.
The Irish News keeps the botched energy scheme scandal simmering, leading with a report that a third former president of the Ulster Farmers' Union is an RHI claimant.
The paper claims that Harry Sinclair "refused to confirm how many boilers he had on his farm, but uses them to dry woodchip for sale to other boiler users".
Mr Sinclair said the claim was legitimate and added: "As far as I can see I have done everything that's right."
And finally, the Belfast Telegraph has some timely advice for lovebirds from a senior relationship counsellor at Relate NI.
Asked to reveal his plan's for Valentine's Day, Vincent O'Rourke tells the paper his wife has left him home alone and headed off on a six-week holiday to Australia with her friends.
"We do lot together, but it really is important you do your own thing too."
Source: BBC News – Northern Ireland
Please follow and like us: