Newspaper review: Political Lotharios and Fantastic Mrs Fox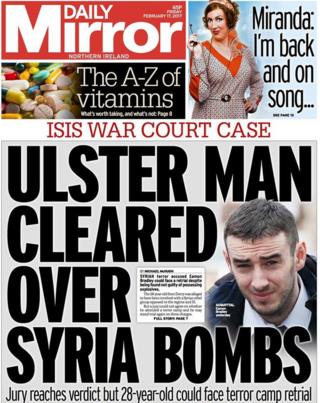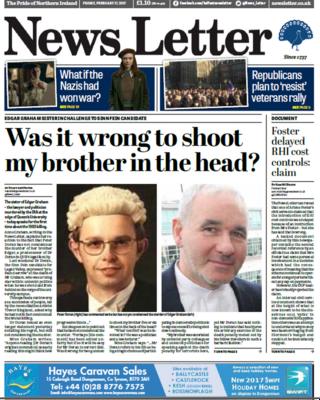 The first TV debate of the Northern Ireland Assembly election campaign receives extensive coverage, if not exactly rave reviews, in Friday's papers.
The performance of the leaders of all five main parties is dissected in detail, but the Belfast Telegraph dismisses the broadcast as "lacklustre" and "humdrum".
The paper says Alliance leader Naomi Long provided a "rare moment of levity" when she called the Ulster Unionist Party the "Lothario of Northern Ireland politics" because of their fondness for electoral pacts.
The Newsletter also noted a "striking lack of attacks" between the UUP and SDLP leaders as they tried to persuade the public they can form an alternative coalition to the DUP and Sinn Féin.
It says DUP leader Arlene Foster was centre stage but found herself repeatedly fending off criticism as the Renewable Heat Incentive (RHI) scheme dominated the debate.
The News Letter also reports on criticism of Sinn Féin's Michelle O'Neill for taking part in an event to commemorate four IRA men who died 25 years ago.
Two gun attacks in west Belfast within 24 hours are also making headlines, with the Irish News leading with a report that a gunman "fired indiscriminately" into a crowd of people who had gathered on the Falls Road on Wednesday night.
The paper claims the group was watching a car "racing along the road" when the gunman shot one man twice in both legs.
The Daily Mirror reports that a stolen car similar to one being "driven erratically" on the Falls Road was later involved in a crash with a police car in west Belfast.
New revelations from the BBC's Nolan Show about "dormant firms" signed up to the RHI scheme is generating heat in the papers.
The programme has access to the list of firms but a group representing RHI claimants is threatening to seek a court order to prevent the media from reporting the names.
However, the Irish News says the Renewable Heat Association of Northern Ireland is now "considering how to identify members who may be flouting the scandal-hit scheme".
And after all that fighting, the Belfast Telegraph praises the people of Northern Ireland's "famed generosity of spirit", or at least the actions of one couple who rescued a badly injured fox.
The vixen is believed to have fallen almost 100ft down a cliff at Ballintoy in County Antrim earlier this week.
Stylist Sara O'Neill and her fiancé wrapped the fox in a blanket and called a vet, who initially believed the animal had suffered paralysis.
However, the fox is now showing signs of recovery and has been dubbed "Fantastic Mrs Fox".
Source: BBC News – Northern Ireland
Please follow and like us: