NI assembly election: Gender balancing and knowing your vote
Balancing the genders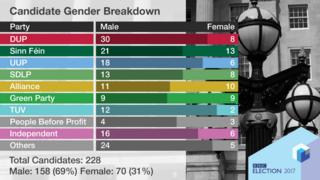 One of the standout figures from last year's Northern Ireland Assembly election result was that the number of women MLAs increased by 50%.
Women made up 28% of the assembly, compared with 19% in 2011.
And while that was a significant mark of progress, Stormont still lagged well behind the Scottish Parliament and the Welsh Assembly for female representation.
The 70 women running this time make up 31% of the overall number of candidates, a 4% increase on last year's figure.
The Green Party is unique in running an equal number of men and women, a repeat of the numbers it fielded last year.
But leader Steven Agnew admitted that almost came about by accident – the party had initially set a target to field six women.
"We took a decision to increase the number of female candidates and set a one-third quota," he said.
"But once we started to ask women to come forward we realised we had a lot of talented women in our party."
Mr Agnew said it is a positive move that other parties have increased their percentage, but he believes they are following in the Green Party's wake.
"When we went round for candidates this time, at one point we actually had 10 female and eight male, but unfortunately one person had to pull out because of work issues, so it ended up being balanced again.
"We find with female candidates they're again more likely to come forward [when asked], whereas men often are maybe more inclined to put themselves forward without being asked."
---
Know how to cast your vote?
Election systems can be hard to get your head around and knowing whether to put an X in a box or a 1, 2, 3 can be confusing.
Assembly, council and European elections in Northern Ireland use a system called Single Transferable Vote (STV), where voters rank candidates on their ballot papers in order of preference.
STV gives smaller parties a better chance of getting candidates elected, as they may benefit from transfers from larger parties.
But how do those preferences make up who is elected or eliminated?
Using an emoji parliament, we explain how the STV system works…
---
BBC News NI's Campaign Catch-up will keep you across the Northern Ireland Assembly election trail with a daily dose of the main stories, the minor ones and the lighter moments in the run up to polling day on Thursday 2 March.
Hear more on BBC Radio Ulster's Good Morning Ulster at 07:40 GMT and on BBC Radio Ulster's Evening Extra at 17:40 GMT each weekday.
Source: BBC News – Northern Ireland
Please follow and like us: