NI parties asked to respond on key talks issues by lunchtime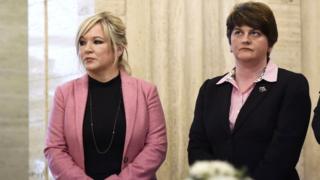 Talks to restore Northern Ireland's power-sharing institutions continue later, with just nine days left for a deal before the government's deadline.
To focus minds, the government gave them a discussion paper setting out key areas where agreement might be reached.
The parties have until lunchtime on Tuesday to respond to the draft paper.
It includes changes to the petition of concern, equality and respect around the Irish language, Ulster Scots and an armed forces covenant.
It also suggests a public consultation on plans to deal with the legacy of the Troubles, and details ways of making Northern Ireland's government more accountable.
The parties have until 29 June to reach agreement and have been warned that if they cannot, direct rule could follow.
The deadline was set by Secretary of State James Brokenshire.
Meanwhile, the DUP will resume negotiations with the Conservative Party in London on supporting a Tory minority government.
The party has been locked in negotiations with the Tories for more than week but it is still not clear when they might sign off on a deal.
It was thought an agreement might be reached before the Queen's Speech on Wednesday, but the parties have refused to be drawn on a timeframe.
Source: BBC News – Northern Ireland
Please follow and like us: