Pink Floyd's Waters would play on US-Mexico border
Roger Waters has said he would consider performing on the border between the US and Mexico as an act of defiance.
The veteran Pink Floyd frontman and bassist has been a vocal critic of Donald Trump's plans to build a security barrier along the Mexico border.
In a rare public appearance alongside drummer Nick Mason, the two former Pink Floyd members discussed their new exhibition as well as what would happen when Donald Trump visits the UK.
"I'm quite sure if President Trump comes to this country there will be an enormous taking to the streets," Waters said.
"I think we would see demonstrations in London bigger than any demonstrations than have ever been seen."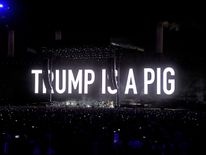 The 73-year-old famously commemorated the fall of the Berlin Wall with a live performance in 1990.
It followed Pink Floyd's own The Wall tour from their album of the same name in 1980.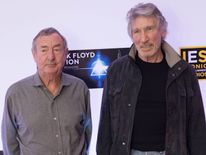 "I get asked quite often if I'd do The Wall again because I stopped a couple of years ago," he said.
"If that happened to be the border between the United States and Mexico then yeah absolutely," he added.
"Trump and Theresa May and the right wing as you know is raising its ugly head all around the world so yeah as an act of celebration it would be."
The pair also revealed they would consider playing Glastonbury, with Mason saying: "I think it would be nice to add it to the list."
"It would be fun to do it, but I don't think its very likely."
Source: Sky News – Entertainment
Please follow and like us: