PSNI to give talk in Irish at County Down school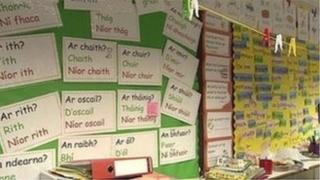 The PSNI has said it is going to give a talk on internet safety to children at an Irish speaking school in Castlewellan – in Irish.
In a post on PSNI Down's Facebook page an officer, codenamed PQ, said they were "really excited" about making the speech at Bunscoil Bheanna Boirche.
The talk by the PSNI officer at Bunscoil Bheanna Boirche is due to take place on Tuesday.
In a post the officer wrote: "It seems only right that children learning Irish should have their internet talks in Irish too but unfortunately the parents who are coming to a more intense parents session in the evening will be stuck with me going into more depth in English.
Wish us luck. I think this is going to be fun."
Source: BBC News – Northern Ireland
Please follow and like us: