Residents block Straid Congregational Church demolition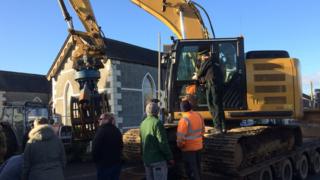 Some residents in a County Antrim village are blocking the proposed demolition of a church.
Straid Congregational Church was to be demolished on Saturday morning to make way for a new building.
Several dozen protesters are blocking a demolition truck from entering the church grounds.
The church pastor and a small number of his congregation are also at the scene. They want the demolition to go ahead.
Police are now at the scene and are trying to work out a way of clearing the lorry carrying the demolition truck from the main road.
Source: BBC News – Northern Ireland
Please follow and like us: