Revenge eviction law 'not working'
A new law designed to help protect people renting homes from rogue landlords isn't working, say MPs and housing lawyers.
Faulty electrics, damp and broken boilers that don't get fixed are all officially classed as category one hazards which pose a risk to health.
But many private tenants are worried that if they complain too much, they will be evicted.
The law in England changed in 2015 to make "revenge evictions" illegal.
But despite that change, figures gathered by Radio 1 Newsbeat through Freedom of Information requests show that more than half of local councils across England haven't used these powers.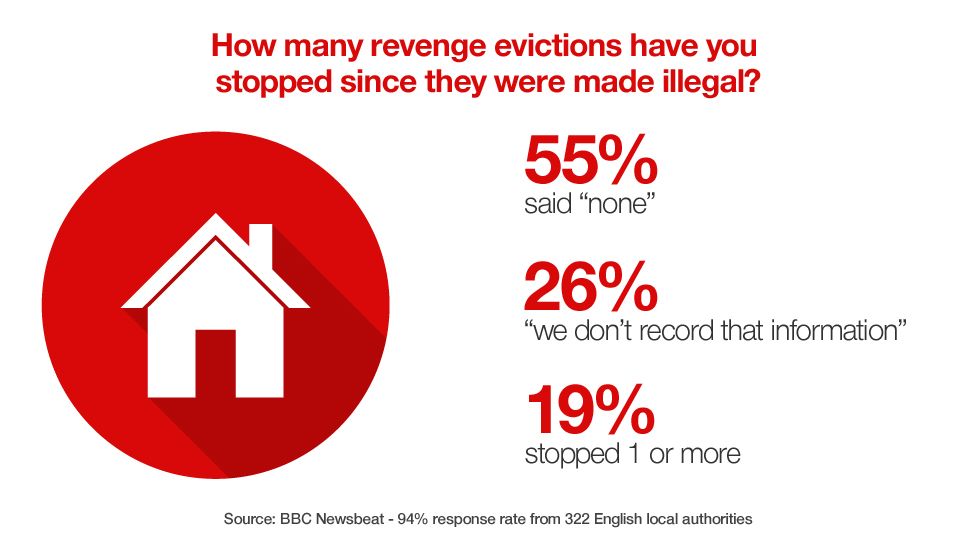 This could be down to a lack of awareness among tenants.
And a tightening of council budgets means some local authorities are able to be more proactive than others.
There are also concerns from the Housing Law Practitioners Association (HLPA) that the way the law is designed is too complicated.
9m people live in 4.3m privately rented homes in England
30% of those properties home don't meet the government's Decent Homes standard
English housing survey 2014/15
Tenants must have made any complaints to a landlord in writing before they are served with a Section 21 eviction notice.
Complaints made in person or over the phone don't count and leave the tenant with little power.
Often it is vulnerable people who are most risk from revenge evictions – like those who don't have the confidence or resources needed to fight a rogue landlord, people who don't have strong reading or writing skills and others who are often only one step up from sleeping on the streets and so desperate to avoid losing their home.
Liz James, 24, lives in a one-room flat in Leeds.
There are large patches of damp covering almost an entire wall and the electrics are faulty.
In addition one of her windows doesn't close properly, leaving a two centimetre gap on one side.
On the day she invites Newsbeat into her home, it is -2C outside.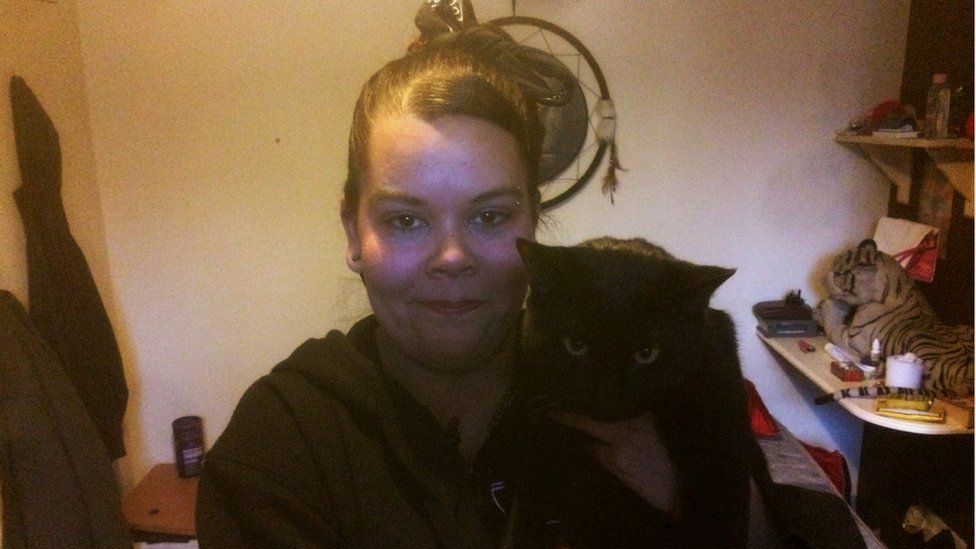 Image caption Liz says she's worried about revenge evictions as she ended up on the streets when it happened to her in the past
"It's unfair. I can't bring people back to the flat.
"When I first came here I didn't want to move in because of the problems with the front door [but]… I don't want to keep complaining because he might kick me out."
When we ask her if she fears a revenge eviction, her answer is stark. In short, she is scared of "being on the street".
"I've been on the street and it isn't nice. I've been on the street and it is horrible."
We had to stop the interview there because Liz became too upset to keep talking.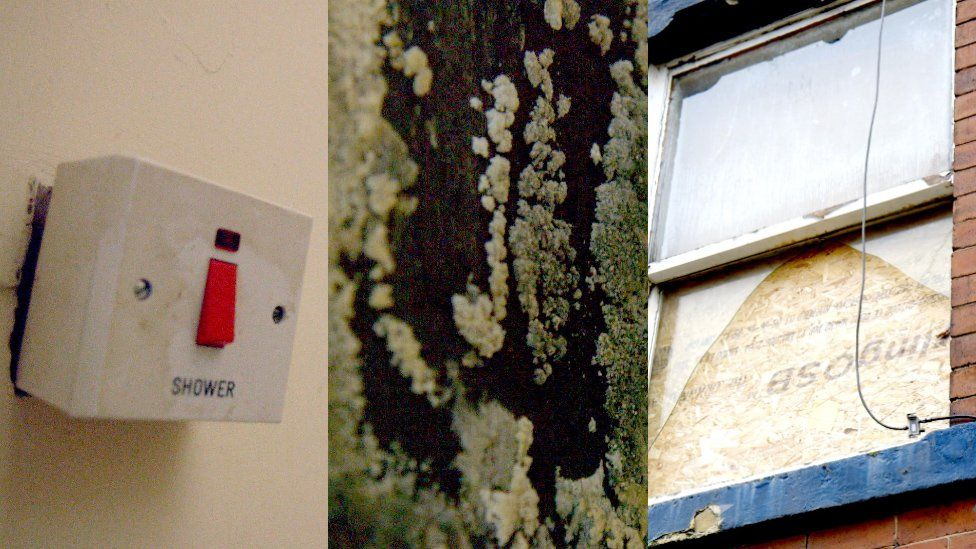 Image caption Faulty electrics, damp and broken windows are all classed as category one hazards which mean they pose a risk to people's health
Bryan Wagner-Adair is from Leeds City Council.
"We do get an awful lot of people coming in saying they've been complaining about things like damp, general disrepairs and electrical problems," he explains.
And he thinks it's a growing problem.
"It's difficult to gauge the level… but certainly we get a lot of people coming in saying the landlord has told them to leave.
"When we dig into it a bit further we find this is on the back of them having reported ongoing disrepair issues with the property."
In a statement the Department for Communities and Local Government said "retaliatory evictions are rare and [since the new law] we have given councils new powers to stop revenge evictions and they should use them where necessary."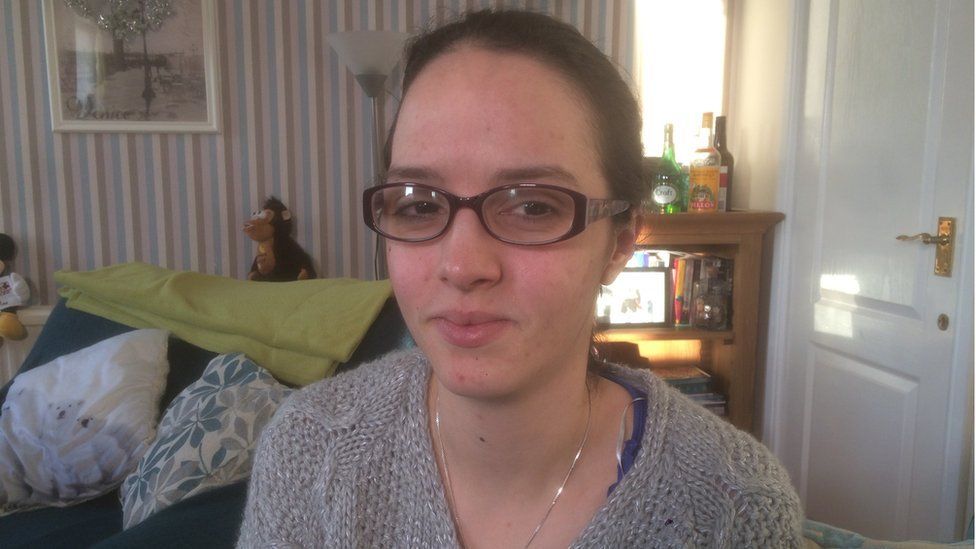 Image caption Helen suffered a revenge eviction before the new law came into effect
Helen Gould was hit with a revenge eviction before those new powers under the Deregulation Act 2015 came into effect and made them illegal.
At the time she was living with her mum, younger sister and baby daughter.
"We wrote to our landlord [to complain about damp] and within a week of him receiving that we received a Section 21 eviction notice… telling us to get out."
Helen's mum was her biggest support in helping raise her daughter so the eviction had a profound impact on her.
"We've now been split up and we're now living about four miles away from each other.
"That completely floored me".
The homelessness charity Shelter says that, while not perfect, the law is better than nothing.
A YouGov survey of 4500 people for the charity three years ago suggested that 200,000 people have either been hit with a revenge eviction or been threatened with one.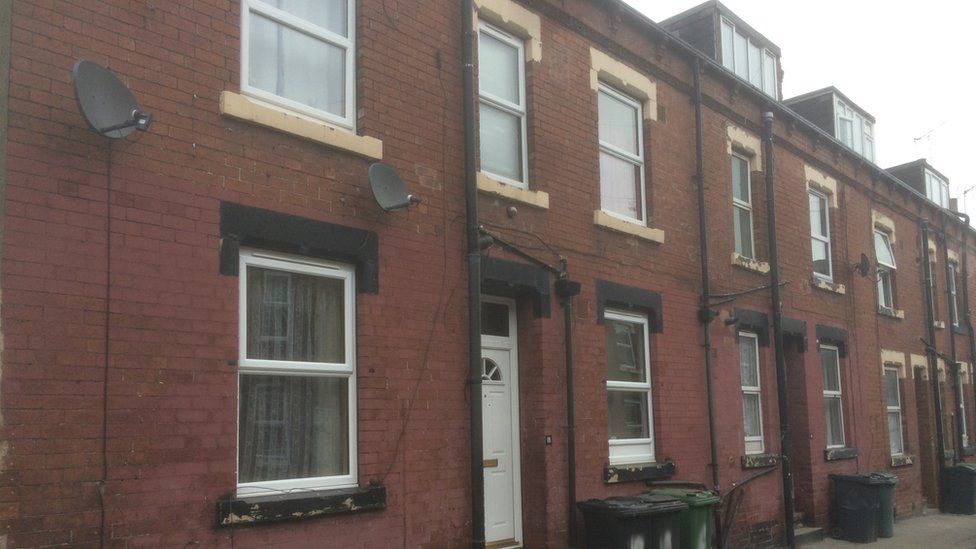 Image caption More than one million private rented properties in England don't meet the Decent Homes standard set by the government
Anecdotal evidence from campaigners, MPs, and housing lawyers suggests the number is much higher, because many just don't complain.
When the law was proposed the National Landlords Association described it as a "pre-election crowd-pleaser" that would do little to tackle the problem.
Labour MP Clive Betts chairs the communities and local government select committee and says the law is not working.
"I can't believe there are that many local authorities where no-one has been the subject to a revenge eviction.
"We're talking about landlords here who are trying to avoid carrying out their responsibilities.
"They're the landlords we've got to get at – and they're going to be in the worst properties, with people living in the worst conditions. That's the biggest challenge for everybody."
Find us on Instagram at BBCNewsbeat and follow us on Snapchat, search for bbc_newsbeat
Source: BBC – UK News
Please follow and like us: