RHI chairman disputes ex-DUP adviser's 'innuendo' claim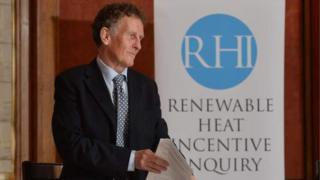 There have been pointed exchanges between ex-DUP adviser Andrew Crawford and the chair of the RHI inquiry.
Andrew Crawford and Sir Patrick Coghlin had a long discussion about the issue of note-taking at ministerial meetings.
There was a particularly sharp exchange when Dr Crawford described as "innuendo" a claim that civil servants had not minuted ministerial meetings.
The inquiry previously heard this was due to DUP and Sinn Féin sensitivities about Freedom of Information requests.
That evidence was given by the head of the civil service David Sterling.
Mr Crawford said it was a "great disservice" to the many civil servants who did take such meetings for this "innuendo that no notes were taken of meetings".
Sir Patrick interjected immediately: "This is not an innuendo, this is evidence of fact given to this inquiry by senior officials David Thomson and David Sterling.
"It's not an innuendo, so there's no need to use words like innuendo, that is a fact.
"Whether you knew it or not will be the subject of the report eventually, but that is a fact."
'Tesco shopping'
Mr Crawford said it was his belief that notes were taken by officials at any meeting involving a minister which he attended.
"I don't know they were putting in their notebooks, maybe they were doing their Tesco shopping for that afternoon, I've no idea.
"But I do know that – every meeting in every department – there was a note taken of these meetings."
Civil service guidance required the production of minutes of ministerial meetings.
Sir Patrick said the only person who seemed to unaware that notes apparently had not been produced was Mr Crawford.
Mr Crawford said if meetings had not been minuted, it had not been at the request of the minister.
The two men also clashed over Mr Crawford's failure to read a technical report which was relied on when a key decision was taken to proceed with the RHI scheme.
The DUP special adviser (SPAD) said a huge number of submissions came up for ministerial approval on a range of technical matters and many had consultants reports underpinning them.
"I don't think any adviser in any department could have been expected to be over all of the detail."
But Sir Patrick suggested he was "misunderstanding" the question.
He said the SPAD was working on a novel and complex scheme and had a submission which said there were further issues to be ironed out.
He said, in that context, Mr Crawford ought to have been asking to see the technical report which informed the submission.
Mr Crawford said in hindsight he should have studied it in greater detail to ensure it was fully reflected in the submission to the minister and were "not at odds".
Sir Patrick said it was not a question of whether they were at odds: "It's a question of you learning something – simple!"
'Deliberately misleading'
Mr Crawford was an adviser to DUP MLA Arlene Foster when she was enterprise minister during the time the RHI scheme was created, and followed her to the Department of Finance and Personnel.
During the afternoon session, Mr Crawford accused Mrs Foster's officials of "deliberately misleading" her about RHI.
He said a consultants' report was not properly reflected in an options paper presented to her.
She picked the RHI scheme, even though a cheaper upfront grant would have provided more heat at lesser cost.
Mr Crawford said Mrs Foster's officials cold be accused of "deliberately misleading" her and he could only speculate on why they might have done it.
'Additional work'
He said perhaps they had been committed to the RHI incentive because they had already done a lot of work on it and did not want to change course.
He also suggested that the grant scheme would have meant a lot more additional work.
He said it would be for the inquiry panel to make a finding.
Sir Patrick Coghlin suggested that if he was correct, the department was "broken".
Mr Crawford said it would not be fair to target all officials with the same brush.
Source: BBC News – Northern Ireland
Please follow and like us: