RHI scandal: A small number of dormant companies claim thousands of pounds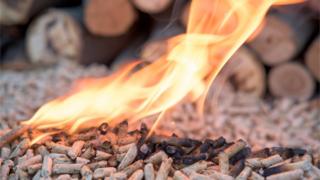 A small number of companies, registered as dormant, have been claiming tens of thousands of pounds from the Renewable Heat Incentive (RHI) scheme.
Details emerged on The Nolan Show on BBC Radio Ulster.
The show said it had a list of all the successful applicants to the RHI scheme.
The Renewable Heat Association NI had threatened to seek an injunction against the programme if they published names of all recipients.
There is a court injunction in place preventing the Department for the Economy from revealing the names of Renewable Heat Association (RHANI) of Northern Ireland members.
The Renewable Heat Incentive scheme was an attempt by the Northern Ireland Executive to help to increase consumption of heat from renewable sources.
However, businesses were receiving more in subsidies than they were paying for renewable fuel and the scheme became majorly oversubscribed.
The fallout from the scandal, which is approximately £490m over budget resulted in the collapse of Stormont's institutions and the calling of snap elections on 2 March.
Source: BBC News – Northern Ireland
Please follow and like us: