Speaker Bercow: Trump should not speak in Parliament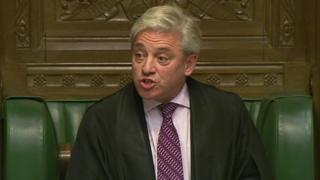 House of Commons Speaker John Bercow has said he would be "strongly opposed" to US President Donald Trump addressing the Houses of Parliament during his state visit to the UK.
Mr Bercow told MPs "opposition to racism and sexism" were "hugely important considerations".
He was applauded by SNP MPs after his comments.
President Trump was invited to make a state visit after meeting Theresa May in Washington last month.
A petition to withdraw the invitation will be debated by MPs on 20 February after attracting 1.8m signatures.
Responding to a point of order in the House of Commons, Mr Bercow set out his opposition to a Parliamentary address as part of the state visit.
He told MPs addressing the Lords and the Commons was "an earned honour" not an "automatic right".
'Pay grade'
He said he was one of three "key-holders" for Westminster Hall, and referred to the US president's controversial travel ban.
"Before the imposition of the migrant ban, I would myself have been strongly opposed to an address by President Trump in Westminster Hall," he said.
"After the imposition of the migrant ban I am even more strongly opposed to an address by President Trump in Westminster Hall."
The Speaker said he would also be involved in any invitation to address Parliament's Royal Gallery.
He added: "I would not wish to issue an invitation to President Trump to speak in the Royal Gallery.
"We value our relationship with the United States. If a state visit takes place, that is way beyond and above the pay grade of the Speaker.
"However, as far as this place is concerned, I feel very strongly that our opposition to racism and sexism and our support for equality before the law and an independent judiciary are hugely important considerations in the House of Commons."
Source: BBC – UK News
Please follow and like us: