Terror accused Bradley 'used WhatsApp' to get into Syria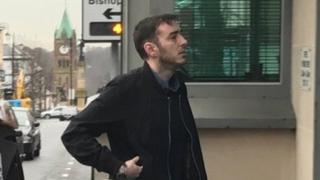 A Derry man accused of terrorism in Syria contacted people on social media to help him get into the country to join the rebellion, a court has heard.
Eamon Bradley, a Muslim convert from Melmore Gardens in Creggan, is on trial at Londonderry Crown Court.
The 28-year-old denies six charges, including attending a rebel training camp in Syria and receiving training in guns and grenades.
The case is the first of its kind in Northern Ireland.
'Controlled by ISIS'
On Wednesday, the court heard transcripts of an interview Mr Bradley gave to police on 6 November 2014.
He told how he got a bus from Derry to Dublin in February 2014 after meeting a contact on Facebook.
Mr Bradley then flew to Istanbul and got a second internal flight to Adana, in southern Turkey, where he made contact with sympathizers through the mobile messaging service, WhatsApp.
He told detectives he travelled near the Turkey/Syria border but he was warned to go no further because it was controlled by so-called ISIS.
Mr Bradley said he stayed with a man in a nearby village who he believed had contacts with the Free Syrian Army.
The trial continues.
Source: BBC News – Northern Ireland
Please follow and like us: