The Co-Op Bank puts itself up for sale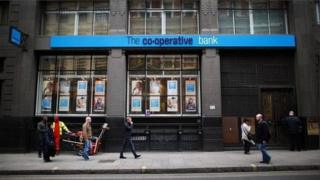 The Co-op Bank says it is putting itself up for sale and is inviting offers to buy all of its shares.
The bank, 20% owned by the Co-operative Group, almost collapsed in 2013, and was bailed out by US hedge funds.
The bank has four million customers and is well know for its ethical standpoint, which its says makes it "a strong franchise with significant potential" when it comes to a sale.
It has not been able to strengthen its finances because of low interest rates.
Dennis Holt, bank chairman, said: "Customers value the Co-operative Bank and our ethical brand is a point of difference that sets us apart in the market.
"While our plan has been impacted by lower for longer interest rates, the costs associated with the sheer scale of the transformation and the legacy issues we faced in 2013, there is considerable potential to build the bank's retail franchise further using the strength of the brand, its reputation for strong customer service and distinctive ethical position."
The bank also said it had made considerable progress in delivering its continuing turnaround plan. And it says it is considering ways to raise funds from existing and new providers.
Separately, it says it has resolved a key contractual differences with Capita.
Western Mortgage Services, part of Capita, will continue to provide mortgage administration services and new mortgage application processing for the bank and its clients.
Source: BBC – UK News
Please follow and like us: