US band's tour bus rammed by lorry in Poland
Thirteen people have been injured in a road crash involving the US band The Dillinger Escape Plan.
The tour bus carrying the heavy metal group was rammed by a lorry near the town of Radomsko, around 80 miles north of Krakow in Poland.
The musicians, who are from New Jersey, were due to play a concert in Krakow on Sunday night. The gig has been cancelled.
Band members were taken to hospital for tests but were not badly hurt. The lorry driver was more seriously injured.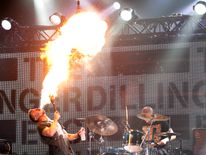 Police say the bus was parked partly on the road and partly on the hard shoulder when the crash happened.
The Dillinger Escape Plan formed in 1997 but the band's line-up has changed repeatedly.
They have released six studio albums – two of which have reached the Top 100 of the UK album charts.
But they are best known for the intensity of their live performances, some of which have proven controversial.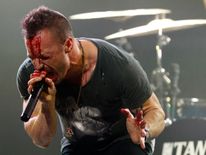 The band have burned guitars and have continued to perform after suffering injuries on stage.
Their most controversial performance was at the 2002 Reading Festival.
Lead singer Greg Puciato defecated on stage, put it in a bag and threw it at the crowd.
The incident, which music magazine NME branded one of the "grossest" in rock history, nearly got the group banned from the UK.
The Dillinger Escape Plan have subsequently performed in the UK without incident.
They are currently touring Europe, with the next stop on their schedule due to be in Leipzig in Germany on Tuesday.
Source: Sky News – Entertainment
Please follow and like us: